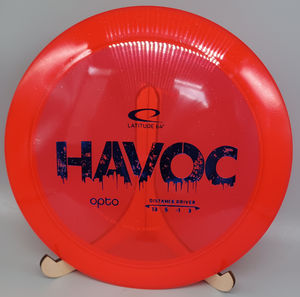 The Latitude 64 Havoc is an overstable high speed maximum distance driver. It has just a touch of high speed turn to hang flat for a majority of it's flight and then has a hard hook at the end once it starts to slow down. The Havoc is an excellent choice for experienced and advanced players to reach their full distance potential.
For more information on the various types of plastic, click here.
Latitude 64 Havoc flight numbers:
Speed 13 | Glide 5 | Turn -1 | Fade 3
For more information on flight ratings, click here.
 Dimensions:

Diameter: 21.1 cm
Height: 1.7 cm
Rim Depth: 1.1 cm
Rim Width: 2.3 cm
Max Weight: 175.1 g

Latitude 64 Gladiator flight path provided by Inbounds DG