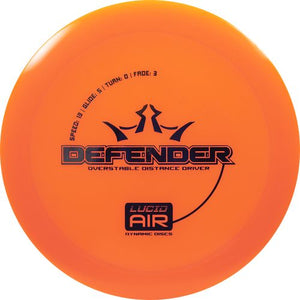 The Dynamic Discs Defender is a stable to slightly overstable distance driver capable of handling wind and staying on its line. Most high speed drivers are either understable or highly overstable. The Defender will give you that super straight flight you need along with all that speed!

For more information on the various types of plastic, click here.
Dynamic Discs Defender flight numbers:
Speed 13 | Glide 5 | Turn 0 | Fade 3
For more information on flight ratings, click here.
 Dimensions:

Diameter: 21.0 cm
Height: 1.6 cm
Rim Depth: 1.1 cm
Rim Width: 2.3 cm
Max Weight: 174.00g

Dynamic Discs Defender flight path provided by Inbounds DG